News & Media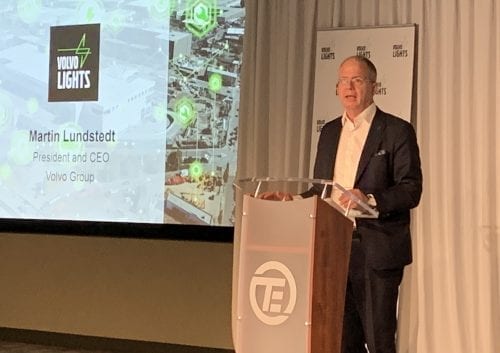 News Story
Bright Idea: Volvo Trucks Flipping the Switch on its LIGHTS Project
Volvo Trucks North America has turned on the LIGHTS.
Announced just more than a year ago, the Low Impact Green Heavy Transport Solution (LIGHTS) partnership teamed together Volvo Trucks North America (VTNA) fleet customers NFI and Dependable Highway Express in the deployment of electric VNR trucks at their California port operations. The deployment was part of a joint effort to demonstrate the ability of battery electric vehicles (EVs) to improve freight and warehouse efficiencies, reduce emissions and improve air quality.
California Air Resources Board (CARB) board member Barbara Riordan, speaking at the LIGHTS Innovation Showcase Tuesday at Volvo Trucks' TEC Equipment dealership in Fontana, California, noted that "90% of Californians still breathe unhealthy air during some time of the year."
CARB provided more than $44 million in funding for the LIGHTS initiative, which, all-in, is a more than $90 million project. Other stakeholders in the project – there is a total of 15 partners – are California's South Coast Air Quality Management District (SCAQMD) and several transportation and electrical charging infrastructure participants.