News & Media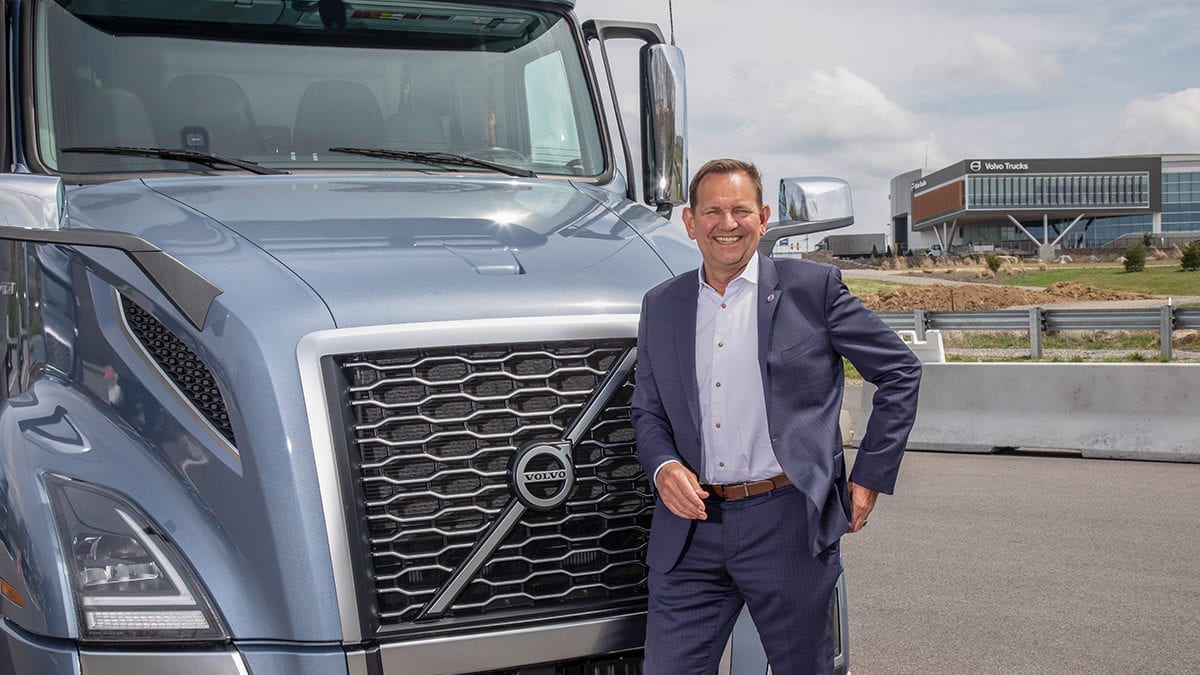 News Story
EXECUTIVE INTERVIEW: Volvo Drives Electric Truck Innovation
Peter Voorhoeve
Current Job Title: President, Volvo Trucks North America
Years at Volvo: Oct 1998, 21 years
Years in Industry: 21
Hometown: Brussels, Belgium (but nationality The Netherlands)
Current Town: Greensboro, North Carolina
Alma Mater(s): University of Technology Eindhoven, MSC Industrial Engineering
In the US, the trucking industry is the lifeblood of the economy, transporting 70% of the products we use in our daily lives. It's also the largest source of urban air pollution. How does this factor into Volvo's approach to product planning?
Sustainable environmental solutions is one of our core values at Volvo Trucks and is a key consideration in our product planning. Our former CEO of Volvo, Pehr Gustaf Gyllenhammar, said back in 1972, "We are part of the problem, but we want to be part of the solution." That was a bold statement from an automobile company at the time. Today, I am convinced that sustainable products and services will be essential for our survival as a global, competitive, and relevant company in the decades to come.
We need to see sustainability as a business opportunity and a necessity when fine-tuning current technologies and planning the next generation of trucks. We need to both recognize and pioneer new sustainable technologies and business opportunities at an early stage. On a high level, this requires us to work on a broad, collaborative front to align technologies that make sense for the industry and invest in infrastructure to create shared value and viable, scalable solutions for our partners and customers.
Volvo Trucks works on multiple solutions to decrease emissions. It is key to continuously challenge and fine-tune our current product offerings, optimizing our diesel engines, driveline efficiency, and vehicle aerodynamics while introducing advanced over-the-air connectivity solutions to increase efficiency and reduce our environmental footprint. We are also continuously investing in alternative drivelines to utilize renewable fuels as a complement, or substitute, to fossil fuels. In 2008, Volvo showcased seven alternative fuel-powered trucks at the Washington International Renewable Energy Conference that are completely carbon-neutral and adapted for use in North America. And, we are investing heavily in electric trucks. In 2019 and into 2020, we will bring 23 VNR electric demonstrators to market with the Volvo LIGHTS project. We will introduce a sustainable and commercially viable electric truck offering by the end of 2020.
How do you foster innovation at Volvo Trucks/Group?
Innovation and driving progress in the transportation industry is in our genes. The Volvo Trucks brand is synonymous with innovation. One key aspect is our company culture which empowers our employees and challenges them to think outside the box to come up with innovative solutions. But more importantly, we do not develop and introduce innovations just for the sake of bringing new technology and gadgets to the market. It must add value for our customers, their drivers, and society. We consistently follow this philosophy and as a result, we see the impressive amount of innovations Volvo has introduced setting new standards in the industry, such as the three-point safety belt, the safest truck cab in the industry, the first cabover heavy-duty truck model (which is now standard in many parts of the world), the automated I-Shift transmission, the recently introduced Volvo Dynamic Steering, and the fully autonomous solution VERA.
Why has Volvo decided that this is the right time to introduce battery electric trucks to the North American market?
Volvo Trucks and the Volvo Group is committed to tackling our societal challenges of air pollution, noise pollution, and the utilization of sustainable energy sources through zero emission vehicles. Today we are at a tipping point—both for concern about the environment and for paving the way for electric vehicles. Today, a number of the challenges we are facing, globally and nationally, are linked to the transportation sector. This is true for climate change, as the transportation sector contributes 14% of global CO2 emissions. Urbanization causes congestion, pollution, and strains our current transport systems. And trade and economic growth are creating an increasing demand for transport. Electromobility can contribute to solutions to these many challenges.
Electromobility is happening now. We see a number of key indicators occurring at the same time. There is a societal & environmental push and at the same time there is a pull from customer demand. Legislation and incentives are becoming high on the agenda. Battery development is progressing rapidly and industry investments are growing.
Electric vehicles will be part of our future, but the vehicles themselves are only one part of what's needed for large-scale electrification to succeed. Enabling long-term, sustainable, end-to-end transportation is a complex issue that requires a holistic approach, incorporating all key stakeholders to ramp up necessary infrastructure, industry standards, and legislation.
And this is happening right now with the Volvo LIGHTS project in California.
Volvo isn't the first or only OEM to add battery-electric trucks to its product line. What do you feel will make your trucks and/or service approach different than your competitors?
A key factor is our deep understanding of electromobility and technology, based on the proven commercial solutions used in Volvo's more than 4,000 electric buses running globally today and the recently introduced European models Volvo FL and FE Electric. This gives us a technical competitive edge. But equally important are the learnings we will gain from the Volvo LIGHTS project.
Bringing electric trucks to the market requires much more than "just" the truck. We need to have the entire ecosystem in place before we deliver the first VNR Electric to our customers. This is where the Volvo LIGHTS project comes in. LIGHTS stands for Low Impact Green Heavy Transport Solutions. This project involves 16 public and private partners, including the Volvo Group, California Air Resource Board (CARB), South Coast Air Quality Management District, and industry leaders in transportation and electrical charging infrastructure. Together we are building an ecosystem and the entire infrastructure required in order to scale and introduce a viable and sustainable electric transport solution to the market. Valuable learnings from the Volvo LIGHTS project will allow us, and the project partners, to accelerate the implementation of electromobility.
This knowledge and experience will differentiate us from any other OEM on the market in North America. Incorporating all the learnings from the Volvo LIGHTS project, we will be able to offer a true electric transportation solution including infrastructure, battery management, and a fully integrated aftermarket solution.
What are the core goals of the Volvo LIGHTS project? What makes Volvo LIGHTS different from other demonstration projects to test and validate technology?
This project is really unique, covering all the aspects of electromobility. We're transforming the freight operations at the facilities of two of the top trucking fleets in the country—and not just the trucks. We are looking at the footprint of the whole site including forklifts and yard jockeys. We'll use connectivity to monitor and manage information from the trucks that show where in their duty cycle they perform best or even how to best manage routes. The analytics from battery management software will help us improve charging, driving range, and long-term usage. We'll also be able to figure out where charging stations should be located to maximize efficiency, as well as if they need to be public or private. And the bigger picture— by installing solar panels at warehouses on site, we are examining how to sustainably generate electricity for charging stations.
Most importantly, we're getting holistic feedback and insights from our customers, dealers, and the local government, which in the long term will support a smooth transition for our fleet partners to electric transportation solutions.
How can state and national transportation policy be streamlined to promote best practices in the transportation industry?
The transportation industry needs plannability and a clear and understandable framework of policies, regulations, and state and national incentives. The most important steps to expedite market penetration of zero emission vehicles are the availability of sufficient purchase incentives and charging infrastructure to ensure vehicles can be integrated into fleet operations with little or no additional cost or inconvenience relative to today's clean diesel vehicles. We need to make electromobility easy and cost effective.
What does true leadership mean to you?
As a leader I would like to inspire my team and encourage everybody to exceed their own expectations. In that way I can be very demanding. I believe true leadership needs to be visionary, but at the same time, clear and hands on. For me, strong leadership also means a high degree of empowerment and accountability. Having a well-defined vision and clear communication around that vision are key for successful empowerment.
Being personal is also essential in order to be credible and authentic in what you say and stand for. Teamwork and cross-functional collaboration is also crucial to avoid any silo thinking and to unleash creativity and inspire innovation. I firmly believe that the result of a team effort is larger than the sum of each person doing their work individually. A highly inspired and empowered team can climb any mountain!
This summarizes what true leadership means to me and what leadership stands for in the Volvo culture.