News & Media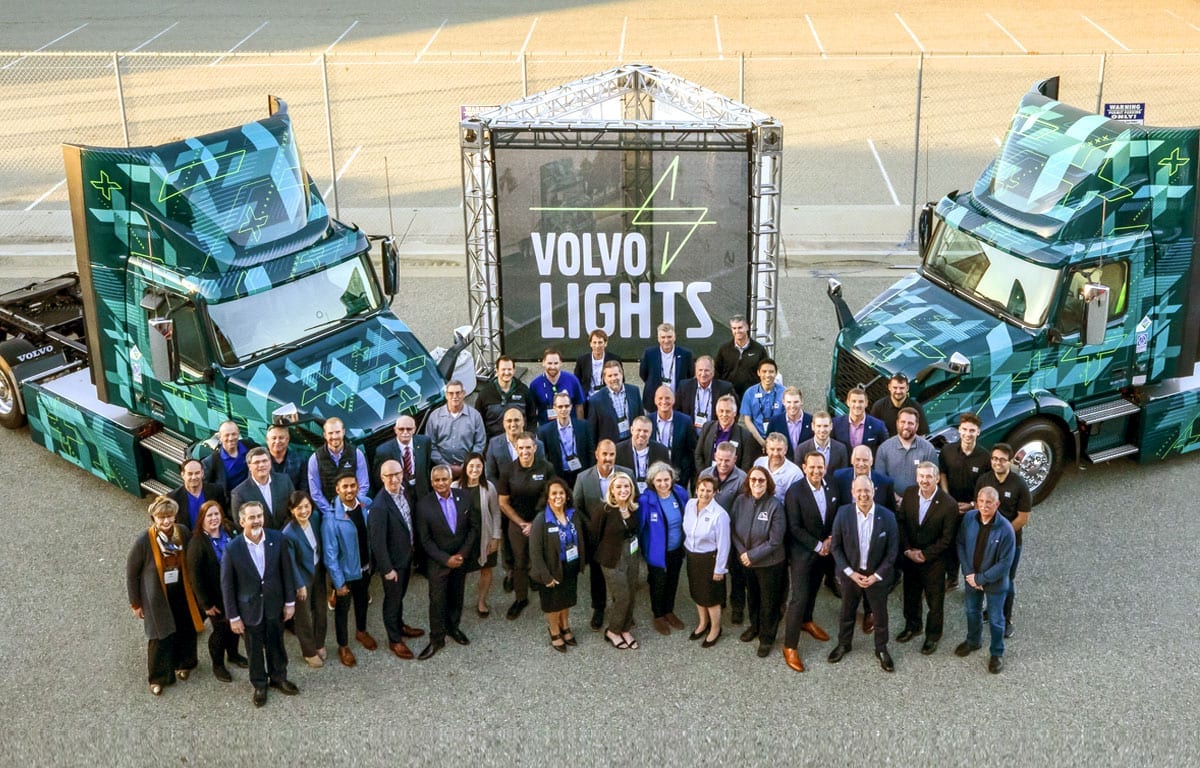 News Story
Volvo LIGHTS Project Honored with Climate Leadership Award
The Volvo LIGHTS (Low Impact Green Heavy Transport Solutions) project was recently presented with a 2021 Climate Leadership award in the Innovative Partnership category by the Center for Climate and Energy Solutions (C2ES) and The Climate Registry (TCR). The award, which recognizes and incentivizes exemplary corporate, organizational, and individual leadership in response to climate change, was presented during a virtual event on October 14.
"The Volvo LIGHTS project owes its success to the determination and dedication of our many project partners," said Dawn Fenton, vice president, government relations and public affairs for Volvo Group North America, who accepted the award. "We couldn't achieve our mission without the partnership of our trusted dealers, infrastructure experts, customers, public agencies, universities, and other stakeholders. We look forward to sharing lessons learned from the project to accelerate the already started transition to electrification of commercial transportation."
Volvo LIGHTS is a collaboration between 14 public and private partners to develop a blueprint to successfully introduce battery-electric trucks and equipment into the market at scale. The Volvo LIGHTS project is led by Volvo Group North America and South Coast Air Quality Management District (South Coast AQMD), and includes partners NFI Industries, Dependable Highway Express (DHE), TEC Equipment, Greenlots, Port of Long Beach, Port of Los Angeles, Southern California Edison, CALSTART, the University of California, Riverside (UCR) CE-CERT, Reach Out, Rio Hondo College, and San Bernardino Valley College.
The multi-year project has enabled Volvo Trucks and its partners to gain real-world insight into the deployment of its Volvo VNR Electric trucks in NFI's and DHE's daily Southern California routes. As one of the first Class 8 battery-electric trucks available to the industry, the joint efforts by the project partners contributed to the commercialization of the Volvo VNR Electric model last December.
The project partners have continued to support the OEM along the way. To help maximize uptime, TEC Equipment is providing local maintenance and repair services to NFI and DHE from its Fontana and La Mirada dealerships. Greenlots supported the installation of networked charging stations for TEC Equipment, NFI and DHE, and Southern California Edison analyzed the impacts of charging on the grid. The ports of Los Angeles and Long Beach provided infrastructure planning support to help facilitate early adoption of battery-electric trucks for port drayage.
To assist with developing a highly skilled and specialized work force to support, maintain and repair advanced electric drivetrains, Rio Hondo College and San Bernardino Valley College launched heavy-duty electric truck technician training programs. The colleges are also collaborating with Volvo Trucks and local community outreach organization, Reach Out, to develop training materials for first responders. Finally, UCR CE-CERT is using project data to develop algorithms to improve battery-electric truck routing.
This project will help pave the way for more emission-free trucks and charging infrastructure, improving air quality in Southern California and beyond.
"The Volvo LIGHTS project demonstrates how collaboration between business and government can turn zero-emissions freight transport into a reality," said Gideon Kracov, governing board member at South Coast AQMD and the California Air Resources Board (CARB). "We are excited this innovative project is being recognized nationally as an example of collaborative climate leadership. This project will help pave the way for more emission-free trucks and charging infrastructure, improving air quality in Southern California and beyond."
The Volvo LIGHTS project was made possible by an award to South Coast AQMD of $44.8 million from CARB as part of California Climate Investments. To learn more about the project, visit www.lightsproject.com.