News & Media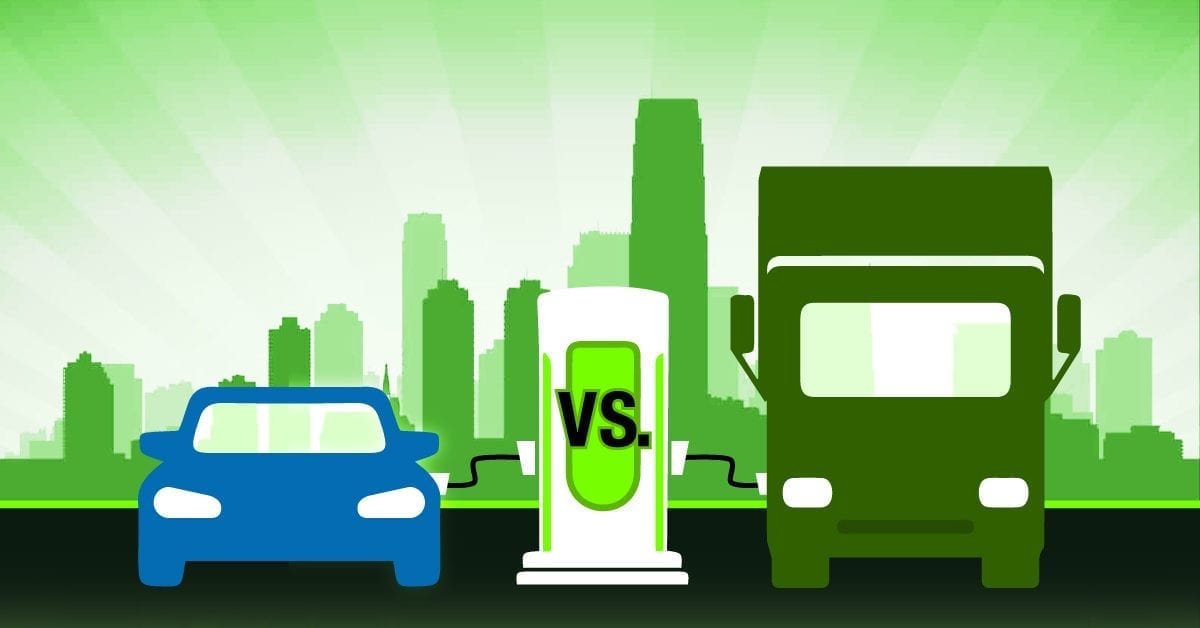 Resource
Medium- and Heavy- Duty BEV Fleets Face Unique Challenges
Sales of light-duty battery-electric vehicles (LDBEVs) have steadily risen since 2010, generating a growing body of knowledge of deployment obstacles among manufacturers, consumers, utilities, and charging vendors. Most of these obstacles pertain to the use of space, time and money to achieve performance parity with conventionally fueled vehicles. While LDBEV deployments have laid a valuable foundation for anticipating driver behavior, technology shortfalls, utility interface and charging station operations, the scale of these obstacles for medium- and heavy-duty (MD, HD) fleets makes electrification uniquely complex. This article describes the key challenges of incorporating BEVs into MD and HD fleets.
LDBEV deployments have generally occurred on an individual basis with minimal impact to socio-economic functions.
With the exception of ride-share programs, the majority of LDBEV purchases in the U.S. have been made private use with personal funds. Naturally, the reasons why individuals purchase a LDBEV vary, and the purchase itself presents minimal risk to public systems and resources.
One household charging an electric sedan at night has a minimal impact on the electric grid. Their charging opportunity is also quite high – LDBEVS are not in use for 95% of their life, and during that time they are generally parked at one of only a few locations (home or workplace) where power may already be accessible. With the exception of road trips and long commutes, the daily energy requirement per vehicle is relatively low. While charging challenges for personal LDBEVs are by no means resolved, they are relatively well understood on a manageable scale.
MD/HD fleets expect to maximize vehicle up-time while leaving little room for error using tight operating funds.
Unlike most light-duty vehicles, MD and HD vehicles are purchased and operated by companies using business and sometimes tax-payer dollars with a responsibility to remain competitive.
This obvious distinction complicates electrification for MD and HD fleets in ways that aren't apparent in the LDBEV market. Commercial MD and HD fleets have little to no room for failure in an industry where profit margins are tight and time down is money lost. A MD or HD vehicle that might fail to complete a duty cycle before running out of power is not just an inconvenience – it is a serious interruption to a fleet's business, and to the business of the companies it serves.
MD/HD fleets have limited charging windows, and how they are used is a function of tradeoffs of space and cost.
While the average LDBEV is available to charge 22.8 hours of the day, the average MDBEV or HDBEV is only available between 5 to 15 hours per day, which may not be consecutive. This constraint complicates a fleet's selection of charging equipment. Today, high-powered DC fast charging solutions can recharge most heavy-duty vehicles within a few hours. Unfortunately, they also tend to increase a fleet's equipment, construction and electricity costs, and decrease the vehicle battery's life, lowering the overall value of the investment. Lower-powered Level 2 chargers can avoid these negative effects to some extent, but they require vehicles to dwell for longer periods of time in order to fully charge. Most fleets have limited flexibility to extend their vehicles' down time.
Charging windows dictate how much space a fleet manager must make available for vehicles and their charging equipment at the depot. DC fast charging modules are physically larger than Level 2 chargers, and above a certain charge rate their footprint may include electrical equipment and liquid-cooling cables. Lower-powered chargers do not necessarily require the same amount of equipment; however, if all vehicles must charge at the same time for a full overnight period, then the fleet may have to dedicate enough space for each vehicle to have its own charger. Labor union break requirements – for drivers and charging station providers – add another scheduling consideration that is non-existent in most light-duty applications.
While LDBEVs are a minor addition to a household's electricity needs, MDBEV and HDBEV fleet deployments significantly increase a fleet manager's electric bill while adding stress to the electric grid. Managing this impact requires fleets to work closely with their utilities and electric vehicle supply equipment (EVSE) vendors. As more vehicles plug in each day – and particularly if they plug in at the same time each day – electrical utilities must ensure the successful delivery of large amounts of power, including in concentrated time frames. In some cases, the additional infrastructure required to support high-powered DC fast charging may take time to design, permit and construct on both sides of the utility meter. This can offset a fleet's project timeline by several months or more.
Deploying BEVs in MD and HD fleets is an exacting exercise requiring specific knowledge of vehicle routes and schedules, charging rates, electrical infrastructure, and electricity pricing on a scale that few LDBEV owners have encountered.
As fleet managers consider their options, case studies of demonstrations and deployments can provide critical guidance for navigating these complex factors and achieving a positive transition at fleet scale.
Article originally published on Advanced Clean Tech (ACT) News. To view the original article, visit: