News & Media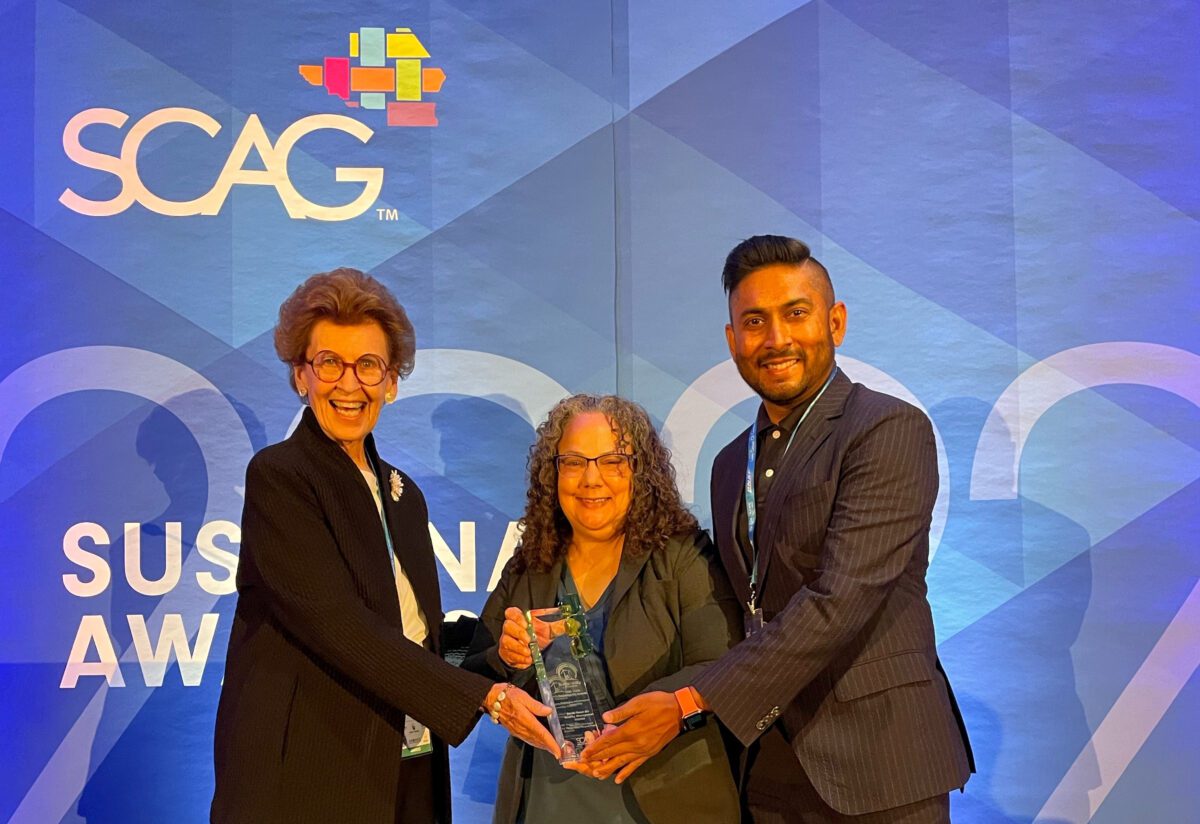 Press Release
Volvo LIGHTS Project Team Wins 2022 SCAG Sustainability Award for Outstanding Achievement in Sustainability
The Southern California Association of Governments (SCAG) has awarded the Volvo LIGHTS (Low Impact Green Heavy Transport Solutions) project — led by South Coast Air Quality Management District (South Coast AQMD) and Volvo Trucks North America — with its 2022
Outstanding Achievement in Sustainability award. The highest honor category in the award program was presented by SCAG during its 57th annual Regional Conference and General Assembly in Palm Desert, California, on May 5.
"We would like to commend South Coast AQMD for their partnership and leadership on Volvo LIGHTS as the innovative project continues to receive accolades for its success. Volvo LIGHTS is a great example of a successful collaboration between public agencies and the private sector to advance regional climate goals," said Peter Voorhoeve, president, Volvo Trucks North America. "Volvo Trucks gained valuable insight and experience during the three-year project that helped our team lay a strong foundation for the successful commercialization and delivery of battery-electric trucks across North America."
The Volvo LIGHTS project, which started in 2019 in Southern California, brought together public and private partners to design and implement a blueprint for the robust support ecosystem necessary to deploy battery-electric trucks and equipment at scale. The project team includes South Coast AQMD, Volvo Group North America, NFI Industries, Dependable Highway Express (DHE), TEC Equipment, Shell Recharge Solutions (formerly Greenlots), Port of Long Beach, Port of Los Angeles, Southern California Edison, CALSTART, the University of California, Riverside CE-CERT, Reach Out, Rio Hondo College, and San Bernardino Valley College.
"We congratulate South Coast AQMD and Volvo Trucks for their leadership in developing a blueprint for battery-electric freight movement. Innovations such as this are critical to the health, welfare and economic viability of our region – one of the most robust goods movement corridors in the world. SCAG is proud to honor them with this award for Outstanding Achievement in Sustainability, which recognizes the best of the best when it comes to meeting our air quality goals and improving quality of life, particularly in disadvantaged communities," said Kome Ajise, executive director of the Southern California Association of Governments.
Ben J. Benoit, Chair of the South Coast AQMD Governing Board and Mayor for the City of Wildomar, and Aravind Kailas, advanced technology policy director, Volvo Group North America, accepted the award on behalf of the Volvo LIGHTS project team at the ceremony.
"South Coast AQMD is incredibly honored to receive this award for the Volvo LIGHTS project. Not only has this project played a pivotal role in making heavy-duty electric trucks a reality, but it is a perfect example that private, public partnerships can be successful," said Mayor Benoit. "This groundbreaking project allows us to fight climate change and reduce air pollution, bringing cleaner air to communities throughout Southern California."
The Volvo LIGHTS project was made possible by a $44.8 million award to South Coast AQMD from the California Air Resources Board (CARB) as part of California Climate Investments (CCI), a statewide initiative that puts billions of Cap-and-Trade dollars toward reducing greenhouse gas (GHG) emissions, strengthening the economy and improving public health and the environment. South Coast AQMD contributed $4 million from the Clean Fuels Fund and awarded the Volvo Group a $45.6 million contract to design and implement the LIGHTS project. Volvo and its partners promised no less than $45.7 million in matching contributions to increase the total project value to more than $91 million for South Coast AQMD to administer. The three-year project took place in Southern California in regions within the top 25% of the state's disadvantaged communities.
"CARB appreciates SCAG's recognition of the Volvo LIGHTS project with this award. Governor Newsom is providing significant funding in his proposed budget to shift both light- and heavy-duty vehicles away from our dependence on fossil fuels," said Barbara Riordan, California Air Resources Board Member. "Volvo LGHTS is an early action project providing valuable data to support that rapid transition to heavy-duty zero-emission technologies to fight climate change and clear the air, especially in disadvantaged communities."
To learn more about the Volvo LIGHTS project, visit www.lightsproject.com.