News & Media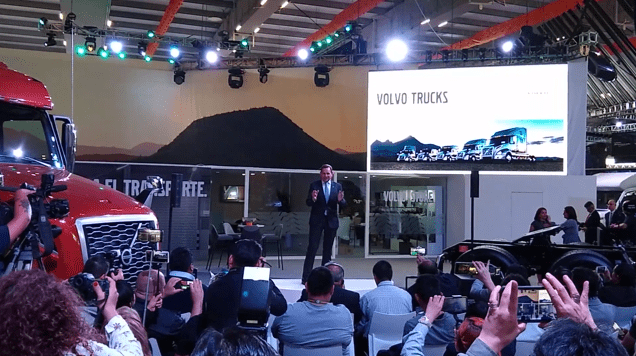 News Story
Volvo Trucks' Peter Voorhoeve on the Pace of Innovation, Electric Truck Development and What Really Matters
Volvo Trucks North America's Peter Voorhoeve keeps getting pulled out of the room. The Volvo Trucks booth at Expo Transporte in Pueblo, Mexico, is a sea of eager customers awash in the ebb and flow of flickering flashbulbs, all calling for Peter's attention. It's a good problem to have as the president of Volvo Trucks North America. Peter took over the post about a year ago and hit the ground running in a market focused on providing productivity and driver retention/recruitment solutions to today's fleets while also moving forward on the development of tomorrow's electric and automated heavy-duty solutions. FE caught up with Peter in between closing truck deals and photo ops. Here's what he had to say.
Voorhoeve: The industry moves fast, as you can see. We feel the tension in the market, and it's moving really, really fast.
FE: No kidding. All good problems to have, for sure. I feel that too, but does truck development really move faster or do we just know more through faster communication?
Voorhoeve: Yeah, well, I think it's a little bit of both right now. In terms of development, we're more connected internally. We set expectations and maybe we think 'this will move slowly' and then it goes very fast.
But it still comes down to: Let's do this really, really well. Consider electric truck development.