News & Media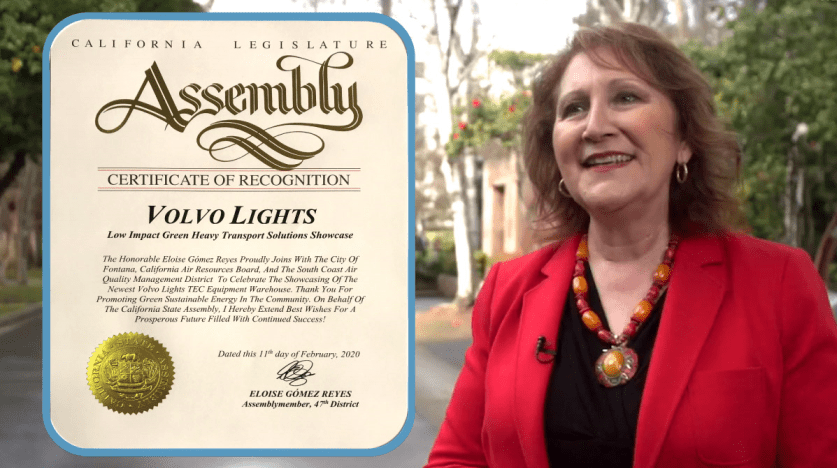 News Story
Volvo LIGHTS Project Earns California Legislature Assembly Certificate of Recognition
California 47th District Assemblymember Eloise Gómez Reyes awarded a California Legislature Assembly Certificate of Recognition to the Volvo LIGHTS project team at the Innovation Showcase on February 11, 2020, in Fontana, California. The award recognizes the project's contributions towards improving air quality in Southern California using green transportation technologies. 
Reyes has served in the California State Assembly since 2016, representing seven Southern California communities in the "Inland Empire"—one of the world's largest logistics transportation hubs. Throughout her term Reyes has worked diligently to drive sustainability in the goods movement sector to help improve air quality for her constituents. A notable example of her efforts includes the introduction of Assembly Bill 1411 (AB-1411) in 2019, which proposed a state goal of deploying 100,000 zero-emission medium- and heavy-duty vehicles and off-road vehicles and equipment, along with the infrastructure needed to support them. Reyes also introduced AB-2772 in 2020, which reauthorizes AB-118 funding measures for the development and deployment of innovative vehicle technologies to help California achieve its climate change goals. 
Reyes is excited for the Volvo LIGHTS project to take place in the 47th District, as the project helps lay the groundwork for the goals set by these legislative efforts. The three-year long project is a unique collaboration between the South Coast Air Quality Management District, Volvo Trucks and 14 other organizations to pioneer a range of vehicle, charging and workforce development innovations, and ultimately design a robust ecosystem to support the commercialization of battery-electric trucks. Volvo LIGHTS will demonstrate the ability for heavy-duty, battery electric trucks and equipment to reliably move freight between the region's two major ports and multiple warehouses with less noise and zero emissions.
One of the fleet operators piloting the battery-electric trucks is Dependable Supply Chain Services, which operates a distribution facility next to the 47th District in the city of Ontario, California. Dependable will deploy three Volvo VNR battery-electric heavy-duty trucks into its daily routes, as well as two battery-electric yard tractors from Orange EV, and 14 battery-electric forklifts from Yale Chase. 
Reyes' 47th District is also home to San Bernardino Valley College (SBVC), another Volvo LIGHTS partner that is designing certificate and associate degree-level training programs specific to heavy-duty, battery electric truck maintenance. 
"I am hopeful that the Volvo LIGHTS project and partnerships with our region's community college will help bolster local workforce development and prove that we can have both good jobs and clean air," shared Reyes.
Reyes shared her excitement about the Volvo LIGHTS project in a recent video interview.